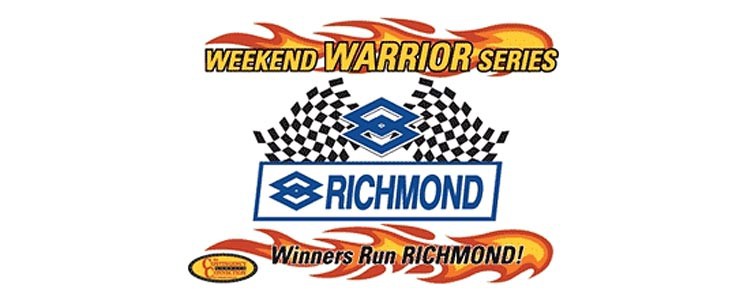 Richmond Gear offers $100,000+ in awards!
RICHMOND GEAR WEEKEND WARRIOR BONUS!
Richmond Gear offers $100,000+ in awards!
For over 25 years Richmond Gear has been a leading manufacturer of professional quality, hi-performance Ring and Pinion sets, full and mini-spools, and Bullet Proof Transmissions. Today, Richmond is posting $75,000 in weekly contingency awards at Contingency Connection tracks and series nationwide.
In addition to weekly awards, Richmond Gear is posting an additional $30,000 in awards with the Richmond Gear WEEKEND WARRIOR Bonus rewarding six (6) racers at your track or series with added Richmond awards. Nearly 400 Racers from coast to coast will become Richmond Gear Weekend Warriors!
---
It is as EASY AS 1-2-3 to win with RICHMOND!
RACE at your hometown track or series…
RUN the Richmond Gear DECAL all season long…
IN the Richmond Gear Weekend Warrior Prize Package!
Here's how it works…
Your track/series will designate 1-3 events as Richmond Gear Weekend Warrior events between June 15-September 15
Richmond Gear will send awards to event for presentation in winners circle
Six (6) lucky Richmond Gear Weekend Warriors will receive $100 prize packages containing a $75 product certificate, racing apparel, and decals!
Richmond Gear rewards Weekend Warrior racers!
RUN THE RICHMOND DECAL AND WIN!
Contact your local track for more details.