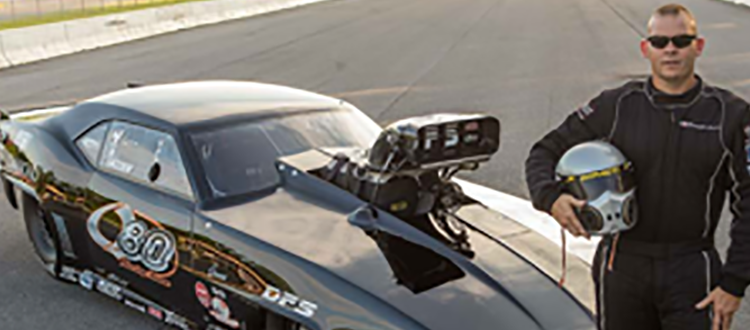 Richmond Gear sponsored driver Brandon Snider's 2016 NAS Racing Pro Extreme World Champion title is sending waves of excitement through the Pro Extreme professional drag racing circuit. Throughout his career, Snider has consistently been reaching for the championship title. In recent years, he has fallen just shy of it. Snider has been racing since the mid 90's in local Quick 8 events. However, the need for speed propelled him to the very top of the drag racing scene, and he soon began racing in Pro Extreme events. In 2014 Snider began racing for the North Carolina based PDRA, or Professional Drag Racing Association. That year he finished second at the championship race, and in 2015 he finished fourth.  The same passion for speed and motivation to win that brought Snider to the Pro Extreme scene allowed him to reach his goal of winning during the 2016 Pro Extreme racing season.
At the 2016 Pro Extreme opener in Tulsa, Oklahoma Snider began his journey to the championship title on the right foot. During the race, Snider took first place and also set a new National ET Record of 3.486, that still stands. As the season roared on, so did Snider's engine allowing him to take home six number one qualifying awards. He went into the semi-finals or finals at almost every event he participated in. Defending champion, Jason Scruggs put in a valiant effort, but Snider was determined to make 2016 his year. Winning the first round of the PDRA World Finals with a 3.52, guaranteed Snider's 2016 championship title. Snider thanked all of his sponsors for supporting him in his win of the championship.
Richmond Gear is one of Snider's top sponsors. His 1969 Camaro carries Richmond Gear's high-quality performance ring and pinions. These ring and pinion sets are manufactured to improve your vehicle's performance and endure strenuous activity, like the tremendous engine torque that is output during Pro Extreme drag racing. Richmond Gear prides itself on creating quality parts that match or exceed OEM specifications. All Richmond Gear products undergo strict quality control tests in our state-of-the-art labs. Richmond Gear's high-quality performance ring and pinions are tested for strength, tolerance, and hardness. After they have met Richmond Gear's strict quality guidelines, all of our products are stamped with the Double Diamond seal of approval and shipped to our valued customers and sponsored drivers, like Brandon Snider.  His 2016 win is a win for Richmond Gear high quality performance ring and pinions.