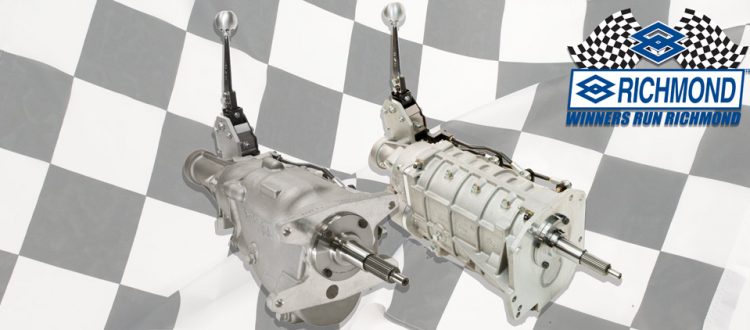 Richmond Gear Updates Transmissions for Modern Power
Whether you're a racer banging through the gears at the track or an enthusiast just cruising Main Street, nothing beats the feeling of positive gear changes and smooth transmission operation. Vintage transmissions are costly to rebuild, while many are not capable of delivering satisfactory performance. New transmissions available from Richmond Gear offer road racers and restorers the look and feel of vintage equipment with all of the reliability and performance expected of new gears.
Richmond Gear proudly announces the next generation in a long line of legendary four and five speed manual transmissions. The new Super T-10 and Super T-10 Plus 4-speed and the Super Street 5-Speed with overdrive are completely re-engineered inside and out to make them stronger, yet still lightweight. They will stand up to the brutal power and torque of modern power plants while retaining original mounting provisions and the appearance demanded by owners of vintage performance cars. Better still, they are assembled in the USA.
Major improvements to the Richmond Super T-10 include an all-new case casting featuring more uniform thickness throughout than original T-10's resulting in increased strength and less flex under demanding conditions. Further contributing to case rigidity is a new billet aluminum or optional milled steel mid-plate. Internally, the lightweight gears are CNC machined to precise tolerances and then heat treated for strength. Gear backlash tolerances are also significantly improved. All forward gears are fully synchronized with brass ring synchronizers incorporating reverse lock sliders to prevent an accidental shift into reverse at speed.  The combination of lightweight gears, heavy duty synchonizers, less case flex and reduced gear backlash all serve to significantly reduce gear crunch during spirited driving. Richmond Gear Super T-10 and Super T-10 Plus 4-speed transmissions are rated at up to 375 lb.-ft. of torque, weigh a mere 70 pounds (dry), feature a 26-spline input shaft and are available in six gear configurations with a low 1st for a good dig on launch and close spacing between 2nd and 4th to keep your engine in its power band.
The Richmond Super Street 5-Speed with Overdrive was designed and engineered with competition in mind. Available in two versions, the Super Street and Road Race 5-speed transmissions offer tremendous power handling capacity (600 lb.-ft.) with easy serviceability, thanks to their innovative high-strength case design featuring a standard billet aluminum mid-plate and greasable tailshaft bushing. As with the Richmond Super T-10, gears in the Super Street 5-speed are CNC machined and heat treated for light weight and strength. Road race brass synchros are actuated by heavy-duty shift forks for fast, positive shifts. A billet steel front bearing retainer provides excellent input shaft stability – ideal for extreme duty clutches. Both Richmond 5-speed transmissions some standard with a Long shifter incorporating high-strength heat-treated rods and a robust side lever mechanism. Available with 2.89, 3.06 and 3.33 1st gear ratios, there's a Richmond Gear Super Street 5-speed that's perfect for your weekend warrior or Saturday night special.
The Richmond Gear Super T-10, Super T-10 Plus and the Super  Street 5-speed are all made in the USA and carry a 12 month, 12,000 mile guarantee. They have been proven on the banks of NASCAR tracks, at the dragstrip and on road courses the world over. For the latest information on these and other Richmond Gear products, visit www.RichmondGear.com or call (800) 934-2727.