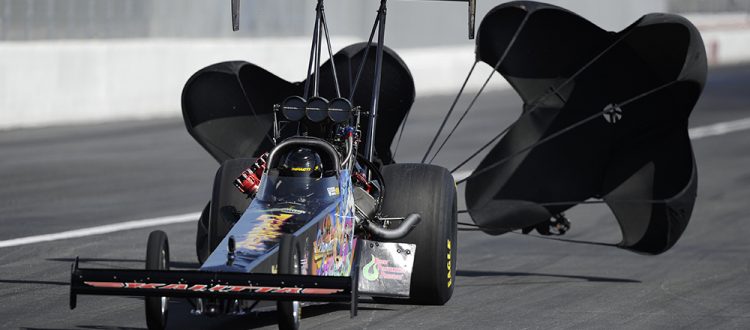 NHRA Top Fuel Racer Steve Chrisman Continues a Legacy of Performance with Richmond Gear
Ever since Wally Parks founded the National Hot Rod Association (NHRA) in 1951, drag racers who participated in NHRA events began seeking ways to squeeze every bit of horsepower out of their drag cars in an effort to gain the edge over their competitors. Racers' tireless experimentation led to huge horsepower increases, resulting in faster runs which thrilled thousands of race fans who packed the grandstands to catch the excitement and root for their favorite driver, team or automobile make. As horsepower advances began to test the limits of tire, suspension and driveline components, racers began looking for ways to keep their rides as light yet strong as possible. Some racers were so successful in doing so; they formed businesses offering racing parts or car building services.
Steve Chrisman is one such racer. As the owner of Chrisman Driveline Components and California Gear in Anaheim, CA as well as an NHRA Top Fuel driver, Steve is very aware of the importance of reliability and repeatability of any racecar or truck. His family's racing background dates back to the pioneering days of the NHRA, where Steve learned firsthand the importance of experimentation and the use of quality parts. "In the 1960's, 9″ Ford rear axles were commonly used until better track prep and stronger clutches started causing them to fail under the intense stresses of repeated hard launches." said Steve in a recent interview. "We tried a 10.5″, which was stronger, but it was also heavier." Experimentation in his own drag car taught Steve that ring gears could be machined thinner to reduce weight without negatively affecting reliability as long as the torsional strength of the gear was not compromised.
As horsepower continued to rise, new gears were needed to maintain reliability. Bigger gears were proven to be better before, so Steve made the logical move to a 12″ ring gear again machining it for weight savings. Through all of the size changes, Steve has stuck with one manufacturer through it all: Richmond Gear. "We became a Richmond Gear distributor in 1978," says Steve. "Through the years, they've worked with racers to improve the consistency and longevity of driveline parts. When you're spending over $2.5 Million per year to run Top Fuel, you need to best parts you can get!"
Considering that Top Fuel dragsters are currently making about 11,000 horsepower, having gears that can survive that kind of power is critical not only to remain competitive, but also safe. "Twelve inches is about as big as the ring gear can get, but Richmond Gear has continuously improved the strength and consistency of their materials to keep up with the increased power." says Steve. "As we try different setups, Richmond Gear works with us to manufacture gearsets with larger pinion shafts, more splines in different materials."
Chrisman Driveline Components has grown to supply Third Members for NHRA Top Fuel and Funny Car teams. Running a successful shop is certainly a full time endeavor for Chrisman, but he still competes in 6-10 NHRA events per year along with many of his customers. His participation helps him understand his customers' needs while fulfilling his desire to compete. "We're a low-budget independent team," Steve admits "…we do it because we love to compete!" It's that very spirit and commitment to the sport of drag racing that makes Chrisman the successful innovator, racer and businessman that he is.